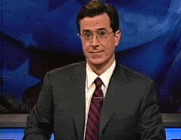 Re TCR: on whether author Neil Donald Walsh knows how God expresses exasperation with the phrase 'Oh Bananas!'
Stephen: That sounds like God to me. I mean He wouldn't say 'Oh Pumpkin' becuase he wouldn't take the gourd's name in vain."
I love you so much, but I have to vent: You, I and the Nation had to know that was a horrid line, but with balls so big it was an easy assumption that you wouldn't shy away from setting off such a bomb. Nevertheless, I was so angry with the overpowering corniness that smothered me that I wanted to throw something.
If and when I ever get to a taping of the Repor(t), I will wait for you afterwards and slap you with a fish.